WAGG WONDERINGS
Click on HOME to restore the frame and left index if not on screen.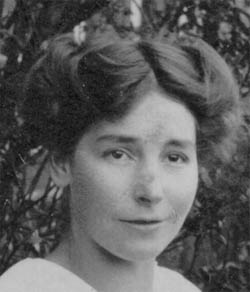 Kate Teeling (née Wagg), born 21-Jan-1892 in Snettisham, Norfolk, England.
John Wagg, 1785-1864
Why is there no army record for John Wagg (or "Wegg") born in Great Bircham, Norfolk, Sally's great great great grandfather? According to his Settlement Examination there on 30-Jan-1815 he was a soldier for 11 years, from 1803 or 1804 til his discharge on 5-Dec-1814. He married Catherine Risden from Dublin in 1812 or 1813 in Charleville, County Cork, Ireland and their first child was born in 1814 or 1815 in Bantry, also in County Cork, later christened 10-Mar-1815 in Great Bircham, Norfolk, England.
The index to records of soldiers' documents shows one John Wagg discharged in 1814, age 29, but he was born in Staffordshire, served in artillery and can be found in the 1841 and 1851 censuses. He is not ours.
William Wagg, 1822-1882
Private William Wagg was in the 55th foot for 21 years. He served in Gibraltar for 3 years 2 months; Turkey in the Crimea for one year. Portsmouth 27th 1862, 'his character has been that of a good soldier, he is possession of three Good Conduct Badges he has received and is in possession of the Good Conduct medal, he has never been tried by a Court Martial, he has thirty nine entries in the Regimental Defaulter Books. He landed with the Eastern Expedition and was present at the Battle of Inkerman [1854] and the Siege of Sebastopol [1854-5], he has received and is in possession of the Crimean medal and two Clasps for Inkerman and Sebastopol and the Turkish War Medal.'
William opted to became a Chelsea Out-Pensioner at the age of 39. He was then '5' 6" swarthy, dark blue eyes and dark brown hair'. Cause of his death at the age of 61 was 'syphilitic softening of the brain'.
One would expect his venereal disease, presumably caught during his 21 year army career, to be passed on to his wife and some of his children, but evidence at this distance is hard to confirm.
William married Hannah Jones in Birmingham´s St Philip Cathedral Church on 10th December 1855, 7 years before he left the army. Their first two children died young. Rosina was born in Newport, Isle of Wight 5-Oct-1856 and her death on 27-Jan-1857 of convulsions, 4 months later, was registered there, althiough it appears she was buried in Lancashire two days later on 29-Jan. Their second child William Henry was born 16-Jan-1858 in St Helier on Jersey in the Channel Islands. We haven't found his death which would have been before the 1871 census. Their third child John was born about 1860 in Ireland, probably in Belclare County, Galway. Such records were destroyed by a fire in 1922.
Hannah died in the workhouse of 'senile decay' aged 83. They had ten children all told: their daughter Kate died aged 8 of 'disease of the heart and natural causes only'; son Rowland died of 'inflammation of the brain' aged 9 and son Edwin of 'convulsions not certified' after 8 weeks.
Henry Wagg, 1862-1945
Why is there no birth certificate for William & Hannah's 4th child, Henry Wagg, Sally's great grandfather? He was christened 9-Nov-1862 in St Thomas's Portsmouth, Hampshire while his father was still in the army. Henry was a farm labourer, blacksmith, horseman on farm, farm teamman.
John Wegg, probably born before 1696, buried 5-Jun 1760 in Sedgeford, Norfolk
Unfortunately, the Sedgford parish records can take us no further back than John Wegg and his children born from 1712 onwards.
I understand the Sedgeford parish records in the parish chest were damaged by damp and candle wax and are unreadable in parts. The early entries are in Latin. For example, "Gulielmus fil Johannes Maria Wigg baptizat decimo quarto Nove..." for the son of the above John Wegg translates into "William Wagg son of John & Maria Wagg baptized 14th November" (1722). (The originals and even their microfiche images will be sharper than the three illustrations here.)
On 5-Sep-1538 the Vicar-General Thomas Cromwell instructed the clergy in parishes to record all their baptisms, marriages and burials on a weekly basis in future. The Sedgeford parish records available in the Norfolk Record Office © date from 1560 but with the documents faded and soiled, early original records can be illegible. (A few parish registers begin before 1538, the earliest I have heard of in England is 1531.) However, the reason for the lack of Wagg/Wegg/Wigg baptism records prior to 1712 in the modern transcripts would appear to be because the three-times married John Wegg came from another parish. Although the lack of contemporary Bishop's trancripts prior to 1703 (a practice made general in 1598) and the poor legibility of the original registers on which the modern transcripts prior to 1703 therefore depend may mean his birth in the parish cannot be ruled out entirely.

Sadly, neither the modern transcript extract below nor the original parish register extract above tells us anything more about John Wegg on the occasion of his first marriage, to Tabitha Smith, on 20th August 1712.

(The NRO have the original parish registers, microfiche and printed copies of the registers, microfiche copies of modern transcripts, and Archdeacons' & Bishop's transcripts for Sedgeford in their searchroom. The former from 1560 and the last from 1703.)