STRUGGLING WITH THE SCOTTS & THOROGOODS
Click on HOME to restore the frame and left index if not on screen.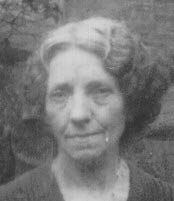 Above is Mary Ann Throughgood Scott", born 3-Feb-1880 in Limehouse, Middlesex, England. In the short movie she is walking in Epping Forest in 1949 with her daughter-in-law and two of her grandchildren. The name she was known by varied during her life as follows:
1880: Mary Ann Throughgood Scott - although her father's brothers took the surname Thorogood
1881: Mary A Scott
1891: Mary Ann Scott
1901: Mary Anderson - surname same as her widowed mother's common law husband's
1907: Mary Scott
1907: Mary French
1915: Marie Thorogood French
1968: Marie Ann Thorogood French
Maybe her change of name from Mary to Marie reflected popular taste of the time. Marie Lloyd (1870-1922) the famous music hall singer was very popular. Her real name was Matilda Alice Victoria Wood.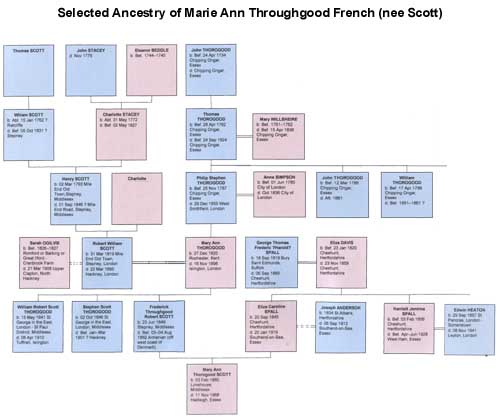 Click on above image for selected ancestry related to this page. I have simplified by truncating lines and removing less important people.
THE SCOTTS
Henry & Charlotte Scott, born 1791-1796
Marie Ann's great grandfather and Chris's great great great grandfather, Henry Scott, was a cordwainer/bootmaker/shoemaker between 1819 and 1846 when he died aged 53, placing his birth in 1793. He had four children by his wife Charlotte, and these were christened at St Dunstan's Stepney between 1819 and 1827.
For quite some thought we had found the marriage of Henry & Charlotte in 1881. This Charlotte would have earlier been widowed. We eventually found our Charlotte's death and she could not have been this woman as her first marriage would have been at age 12. So, as yet we have no marriage, nor a maiden name for Charlotte. The christenings of her four children provided no clues so her ancestry is unknown. Barking up the wrong tree is an unavoidable occupational hazard for genealogists. One always needs to remember that all these facts one discovers are actually hypotheses.
The 1841 census suggests Charlotte was born between 1791 and 1795, while possible sightings in 1851 (with an Esther Thorogood, whose maiden name might be Witherick and who might have had 10 children with husband John who seems unrelated to our Thorogoods) and 1881 suggest 1801-2. Her death in Bethnal Green in 1889 at 93 (remarkable for a poor person in Victorian London) suggested 1795-6 and was reported by the matron of the Bethnal Green workhouse where she died a "winder". We found no sightings of Charlotte in the 1861 or 1871 censuses, but where she lived in 1881 and died in 1889 are very near where the Scotts have lived during Victorian times (see Google Map below) and half a mile from where Mary Ann Scott (see later section), her daughter-in-common-law (estranged from her son), was living in 1891.
William Scott, baptised 15-Jan-1762, died 5-Oct-1831
In 2010 we found Henry Scott's parents, William Scott & Charlotte Stacey, although we did not find a marriage. Henry's parents might be Thomas Scott & Sarah Savage who married 13-Jan-1750 at St Anne and St Agnes Aldersgate. We have gone no further back in time with the Scotts.
Charlotte Stacey, baptised 31-May-1772, death unknown
Charlotte Stacey was the last of four children born to John Stacey (a tailor) & Eleanor (née Beddle) who married in St Martin in the Fields, Westminster on 20-Apr-1760. For eight years, John & Eleanor Stacey rented a house in Glazinby Court in the Parish of St Martin in the Fields where they had three of their four children. I have not been able to find "Glazinby Court" anywhere. But I have found "Lazenby Court" in Covent Garden in 1841 & 2010. Today this appears to be an alleyway connecting Floral Street and Rose Street .
John Stacey died in November 1776 and Eleanor & the children moved out in February 1777. It isn´t clear to me where Eleanor was living between her settlement examination in 1777 and her discharge from St Martin´s Workhouse in April 1786 which is the last we hear of her "Lived Servant with Mr. Bates No.7 St. Jas. Square and robbed him of several things". The name Stacey appears among her descendants and was very helpful to family history research.
Mary Ann Thorogood, aka Mary Ann Scott, born ca. 1821 in Rochester, Kent
For a very long time it had been a complete mystery what had happened to Chris's great great grandmother, Mary Ann Thorogood, whose granddaughter is pictured at the top of this page. Chris's great great grandfather, Robert William Scott (born 31-Mar-1819 in Stepney, Middlesex) had three children including his great grandfather, Frederick Thoroughgood Robert Scott (1849-1882) by Mary Ann Scott, as she called herself.
By the time of their marriage, Sarah already had two children - Mary Ann Scott (born 4-Oct-1850 Bethnal Green and given the name previously assumed by Robert William's first partner) and Jane Elizabeth Scott (born 4-Oct-1852 South Hackney). She went on to have five more children by Robert William.
Robert William Scott and Mary Ann (his first partner) appear together in the 30/31-Mar-1851 census as husband and wife with their three children, although by that time Sarah Ogilvie (his future wife) has already given birth to their first child, the other Mary Ann Scott. We have been unable to find Sarah Ogilvie and daughter in this census.
Mary Ann Scott disappeared and ten years later there is no sign of her in the 1861 census, by when Robert William has been ensconced with Sarah for over five years along with their growing family (four children by then including the new Mary Ann). Along with the 14 year old Stephen Scott (Robert William's son from his partnership with Mary Ann Thorogood/Scott) but not the 11 year old Frederick Thorogood Robert Scott who appears in the boys refuge at 28 Commercial Street (later to become an Industrial School). This is the last appearance of Chris's great grandfather Frederick in a census before he drowns after the Armenian sinks off Denmark in August 1882.
The mystery for us had been what happened to Chris's great great grandmother Mary Ann Thorogood, aka Mary Ann Scott. She disappeared without trace after the 1851 census. Toni, in particular, had searched the death records thoroughly under the name of Thorogood (all its variants) and Scott. She had also looked for possible marriages under both names. Dozens and dozens of likely records had been examined without success. Unfortunately, "Mary" and "Mary Ann" are extremely common names and even were we to come across our Mary, all too often there would not be sufficient information to identify her with any confidence. We had concluded that her death was simply not recorded.
But then while looking in the censuses for one of her grandsons whose father (one of Mary Ann's sons) had disappeared, we came across him with Mary Ann Finch, grandmother and widow! This information enabled us to place her in three censuses for 1871, 1881 and 1891. We have still been unable to find her in the 1861 census or any marriage to her new partner Thomas Finch, but finally - found her death on 16-Nov-1898, where she was described once more as Mary Ann Scott, widow of Robert William!
Frederick Scott, born 23-Jun-1849 in Stepney , Middlesex, died at sea in August 1882
Another missing piece of the jigsaw is the whereabouts of Chris's great grandfather Frederick Scott, commission agent, boarding house keeper and able seaman for the 28 years between 1861 and 1879. His oldest brother William Robert Scott then aged 19 had already left home by the time of the 1861 census and although his other brother Stephen, aged 14, was living with his father and stepmother it would appear that Frederick had already been pushed out to the refuge, maybe with a life at sea already beckoning. All we know of his life after 1861 is his ship record for the last three years and two glimpses from other documents:
14-Mar-1879 to 26-Mar 1879 Beemah (ON 74532)
1-Apr-1879 to 16-Apr-1979 Alex Yeats (ON 72266)
13-Apr-1879 to 27-Apr-1879 Her Majesty (ON 30726)
up to 1-Sep-1979 SS Nellie Schneider (ON 70482)
9 to 23-Sep-1879 SS Salamanca (ON 76758)
16-Mar-1880 45 Church Row, Limehouse, Stepney, Middlesex (today E14 7JP) - registering daughter's birth
18 Feb 1881 Boston, Lincolnshire - note to daughter sent to wife c/o his mother
Dec-1881 to Jan-1882 SS Asian (ON67982)
1 to 10-Aug-1882 Armenian (ON 65853)

The above ships were found as a result of searches at the Maritime History Archive of the Memorial University of Newfoundland, St John's, Newfoundland, Canada. Unfortunately, records are not digitised and we cannot trace his career or whereabouts before he joined the Beemah. His previous ship on that crew agreement is listed as "Foreign". Not surprisingly, there is no ship with that name so at that point the chain is broken. It also appears he was on board other ships - vide envelope posted in Boston - not revealed by Newfoundland search.
Frederick Scott was the only one of three brothers to exclusively call himself a Scott. William Robert and Stephen mainly went by the name Thorogood reflecting the fact that their father had never married their mother.
John Anderson, born 9-Apr-1884 in Woodford, Essex
What happened to Chris's half great uncle, John Anderson? He was the son of Chris's great grandmother Eliza Caroline Anderson (born with the surname Spall in 1845, previously Scott from her marriage to sailor Frederick) and her partner Joseph Anderson (1834-1923).
Edwin Heaton, 1857-1941
A longtime puzzle had been the identity of the "uncle" of Chris's grandmother Marie Ann Thoroughgood French (née Scott 1880-1968) pictured at the top of this page, with whom she spent a good deal of time in Southend in the 1930s. Was he a friend or indeed an "uncle". We now believe that he wasn't a blood relation but was indeed a relative, Edwin Heaton, the husband of her aunt Harriet Jemima (née Spall) who had died in 1928. Marie Ann lived with or next door to the Heatons between 1881 and 1901. Go to my page on the Spalls for more on him and his paintings.
THE THOROGOODS
Philip Thorogood & His Brothers
The father of Mary Ann Thorogood (1820-1898) was Philip Stephen Thorogood. In 2010 I discovered that Epping Forest (today 24 square kilometres) where Mary Ann's granddaughter is seen walking in 1949 in the film clip above is close by Chipping Ongar where our Thorogoods lived for over a hundred years, from before 1705 to the early 1800s. Small world! She would not have known this. Philip Thorogood left Chipping Ongar for London, marrying Anne Simpson in St Botolph Bishopsgate in 1815. They then popped across the river to Rochester where their family was born before returning to London. Philip died in St Barts Hospital in Smithfield in 1855.
Philip was a coachman and stagecoach driver, as was his brother William. He later had a son who was a London omnibus driver who drowned in Regents Park Canal. Actually, William and their other brothers John and Thomas were victuallers or innkeepers, but Thomas & William both went bankrupt in 1831 and it was then that William also turned to being a coachman.
In 1821 Philip was committed to gaol - probably for just 2-3 weeks, maybe hard labour - for running away, and leaving his wife and family chargeable to the parish. He obviously returned as they had two more children, but since then seems to have kept on the straight and narrow, although he and his brothers took a keen interest in legal matters.
In 1827 he was found not guilty of stealing a horse. (It was him ... probably :)
In 1829, William gave evidence at the Old Bailey against a William Jones who stole his trousers - he had been driving the Ongar to Aldgate (Bull Inn) coach. No, he wasn´t wearing them, and the man was sentenced to 6 months in gaol.
John kept the Blue Boar public house in Aldgate High Street for a while and in 1842 gave evidence at the Old Bailey against a James Grant who stole a dead duck from him. The man was sentenced to one year.
Thorogood Brickwall
The new Thorogood brickwall is in the late 1600s. John Thurgood (the first of three Johns) would have been born before 1688 but probably not in Chipping Ongar. John is of course a common name making it difficult to locate him for sure in another parish. He married Sarah Foster in 1703 in nearby Kelvedon Hatch.