MESSING WITH THE MILWARDS
Click on HOME to restore the frame and left index if not on screen.

Descendant Tree including Aaron MILWARD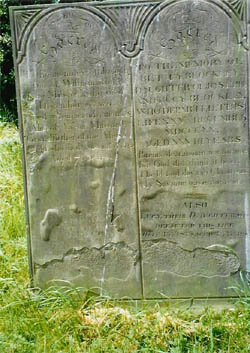 "To the memory of Joseph Son of William and Jane Milward who died December 19th 1821 Aged 3 years and 9 months. Also of Aaron Milward Grandfather of the above Child who died November 3rd 1823 Aged 70 years" in Edensor graveyard. Courtesy of Richard Milward.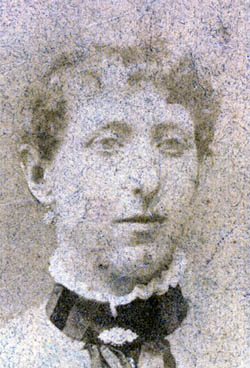 Perhaps above ... Harriet Milward (née Dunmore), born 11-Jun-1862 in Marylebone, Middlesex, England; Katie's mother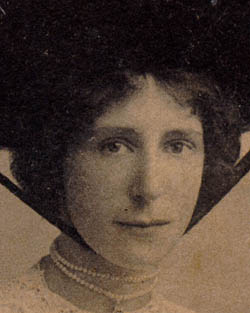 Katie Gertrude Dunmore Norman (née Milward), born 1-Nov-1884 in Finchley, Middlesex, England.
MILWARDs before 1750s
There is always the possibility of making a major advance on one's own, but significant progress often depends on joint efforts and this is nowhere more evident than with our Milwards where there is a particularly keen group of enthusiasts including Bill, Richard, Clive & Mike.
William Milward (1781-1849) was the schoolmaster at Edensor on the Duke of Devonshire's Chatsworth Estate for 30 years until 1839, and although thanks to meeting up with Bill in 1999 we quickly knew who his parents were, his origins remained a mystery. Research was made more difficult as this part of Derbyshire is not far from the county's boundaries. Also with his occupation of schoolmaster, we had been misled into expecting an educated background. He is referred to in Basil & Jessie Harley's A Gardener at Chatsworth, 1992, about three years in the life of Robert Aughtie (1848-50). The village was "new-modelled and re-built between 1839 and 1841" by the 6th Duke of Devonshire, and the boys school below was built on the site of the old school in 1841, but itself was demolished by 1950.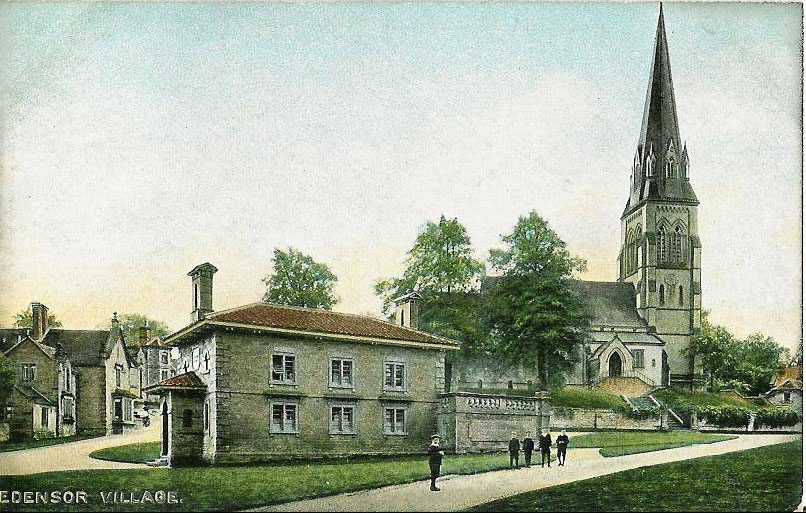 The breakthrough after 12 years came in 2008 when Richard who joined the fray in 2002 discovered that Aaron Blagdon AKA Milward,labourer of Taddington, was accused at Derbyshire Quarter Sessions in 1816 of assaulting Ralph Mosely, yeoman of Taddington, and recognised him as being William's father. Aaron died 3-Nov-1823 in Taddington, Derbyshire aged 70 and was buried in Edensor 6-Nov-1823. We haven't found out what happened to the charge.
Research turned to neighbouring Staffordshire where we discovered that Aaron had been born to Margaret Blackton in Sheen in 1753, and was the son of Aaron Milward. The records clearly indicate that Aaron senior absconded and, although not explicit, suggest that Margaret's parents (Ephraim & Sarah) were left holding the baby, young Aaron Blackton. Emissaries were sent to Sterndale and Flagg in Derbyshire on account of the child. Margaret Blagden who was born in Flagg and christened in Chelmorton in 1735 appears to be the mother and maybe she was sent away from Sheen. (?) Her sister Anne Chrichlow appears to have been married in Sheen in 1752 and is recorded as receiving payments from the parish. The Sheen Parish Book 1720-1802 in the Staffordshire Record Office (D5523/2/1) including "Churchwardens', overseers' and headborough's accounts..." has:
"The account of Joseph Bradley Overseer of the poor for the parish of Sheen in and for the year 1754 as followeth ..."
"... to James Oliver for nursing Aaron Milward's child for 13 weeks £0=15=2" [Equivalent in 2008 to £100 using the retail price index. Who is he James Oliver?]
"... Hannah Gilman for nursing that child 5 weeks £0=7=0" [Equivalent to £47. Wet nurse? We don't know who Hannah Gilman is.]
"... to Ephorim Blackton for nursing that child 25 weeks £1=5=0" [£170] The father of Aaron's mother, Ephraim was born Flagg & christened 17-Jul-1699 in Chelmorton]
"... spent in going to Sterndale and Flag about that child one shilling" [£6.80] Flagg is a township within Bakewell Derbyshire and next door to Taddington, again part of Bakewell. Earl Sterndale is a hamlet in the parish of Hartington Derbyshire and 6 miles south of Buxton & 8 west of Bakewell.

Before 1st May 1755
"forwarding ... sum of £23=17=6 the accountant is to receive for Ephorim Blackton the sum of" [Equivalent to around £3,000, but far more than this using average earnings, see MeasuringWorth.]

"The accounts of Francis Buxton Overseer for 2 years 1755 ..."
".. 52 weeks board for Aaron Millards child £2:0:0" [equivalent to £250]

"The Accounts of John Needham Overseer ... for the year 1756 ..."
".. 52 weeks board for Aaron Millards child £2:0:0" [equivalent to £220]
Finding Aron Blackton's father took a little longer but Aarons are not too common so we eventually settled on him being the Aaron Milward of Fernyford who was baptised in Longnor Staffordshire in 1727. He was apparently killed in Dec 1781, aged 44, "by falling out of a Bucket in a shaft at Mixon Mine". The copper mine is in Onecote, Staffordshire.

Finally it is possible that our Milwards may in fact be Middletons? Richard found a will for a Robert Middleton whose wife Alice had an earlier child William alias Milward. Clive found their later marriage. Could this william be Charles Milward's father? Unfortunately there are other candidates fo Charles's father. :) Charles is the father of Aaron, the grandfather of Aaron Blackton, and the great grandfather of our Edensor schoolomaster, William Aaron Milward.

Due to a bug (Google are working on it), if you are using Internet Explorer or Opera, the markers for Edensor, 1720-1849; Longnor,1727; Mixon copper mine, 1781; Sheen, 1753 and the Jug & Glass Inn are all missing from the map below. Howver if you are using Firefox, Google Chrome, Safari or Sea Monkey they should be there.

Click on "William Aaron Milward & Ancestors" on the bottom of the map below where it says "View William Aaron Milward & Ancestors in a larger map" and a window will appear with a larger map on the right and a list of locations on the left. Even if you are using Internet Explorer or Opera the list of locations on the left will be complete so you can click on (say) Edensor and a box will open up on the map to the right showing its location.

No problems with the iPhone or iPad but no list on the left.

View William Aaron Milward & Ancestors in a larger map