The Tobin Sisters; John, James & Anne Teeling; and Philadelphia
Thomas Teeling & Marry Dunne's son John Teeling was christened 26th July 1851. He married Ann Tobin in Kells on 8th January 1879. She was one of 11 children born in Kells to Peter Tobin & Catherine Brien. John & Anne had four children John Thomas, Matthew Joseph (later changed his name to Matthew Arthur), Peter (later became Peter Joseph) & James, the last of whom was baptised 22nd May 1883.

Anne died on 13th December 1883. Although her death was over 6 months after the birth of James, Anne's grandson Donald recalls being told that she died in childbirth. It is possible that she was pregnant again but this doesn't appear relevant to the cause of death as on the certificate it says "Acute Rheumatic" which I am told would have meant "rheumatic fever" which was quite common in those days. Maureen Nulty recalls being told that the Granny Teeling brought James home in a shawl the night his mother died. Later, she should would refuse to let him go to America with the rest of the family. At some time John took up with Anne's sister Catherine Tobin (aka Cath & Kate).

What appears to be relevant here is the The Deceased Wife's Sister's Marriage Act, which wasn't passed until 28 August 1907. I quote from "Georgian Marriages - Marriage licences".

'[The 1835 Marriage Act enacted that] "all marriages which shall hereafter be celebrated between persons within the prohibited degrees of consanguinity or affinity shall be absolutely null and void to all intents and purposes whatsoever". At the same time the act did legalize all marriages within the prohibited degrees of affinity (i.e. with deceased wife's sister) that had been celebrated before August 31, 1835. ... It was only any later marriages, after the date of the marriage act which were void. Beginning in the 1860's, bills were introduced in Parliament just about annually to allow marriage with deceased wife's sister; it finally passed in 1907. The issue prompted the classic line from Gilbert and Sullivan's operetta 'Iolanthe' - "We will prick that annual blister, marriage to deceased wife's sister". In 1907 they finally managed to repeal at least half of it. The Deceased Wife's Sister's Marriage act of 28 August that year made it possible to marry one's sister-in-law. Yet it wasn't until 1921 that the Deceased Brother's Widow's Marriage Act was passed which made marriage to a brother-in-law legal.'.

I have not seen any evidence that John and Catherine ever married.

LEAVING FOR AMERICA IN 1984
In America Donald's father told him that because John 'married' his sister-in-law they had to leave Ireland. While in Ireland, Maureen recalls that it was a huge family upset, a huge shame. Based upon other recorded journeys, it would seem that John & Catherine embarked for Philadelphia on the SS Indiana (see below) between the 15th & 17th May 1884, but without his children. The Pennsylvania, Philadelphia Passenger Lists, 1800-19?4 records them arriving on 27th May. John's age is given as 31 which is correct while Anne's age is given as 22, when according to her baptism she was 23.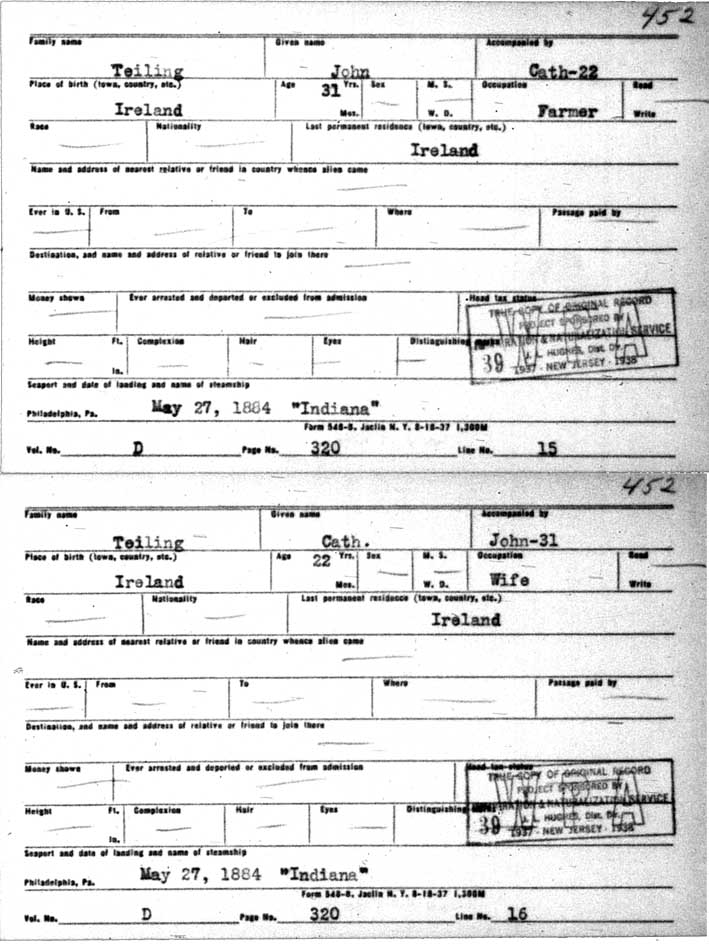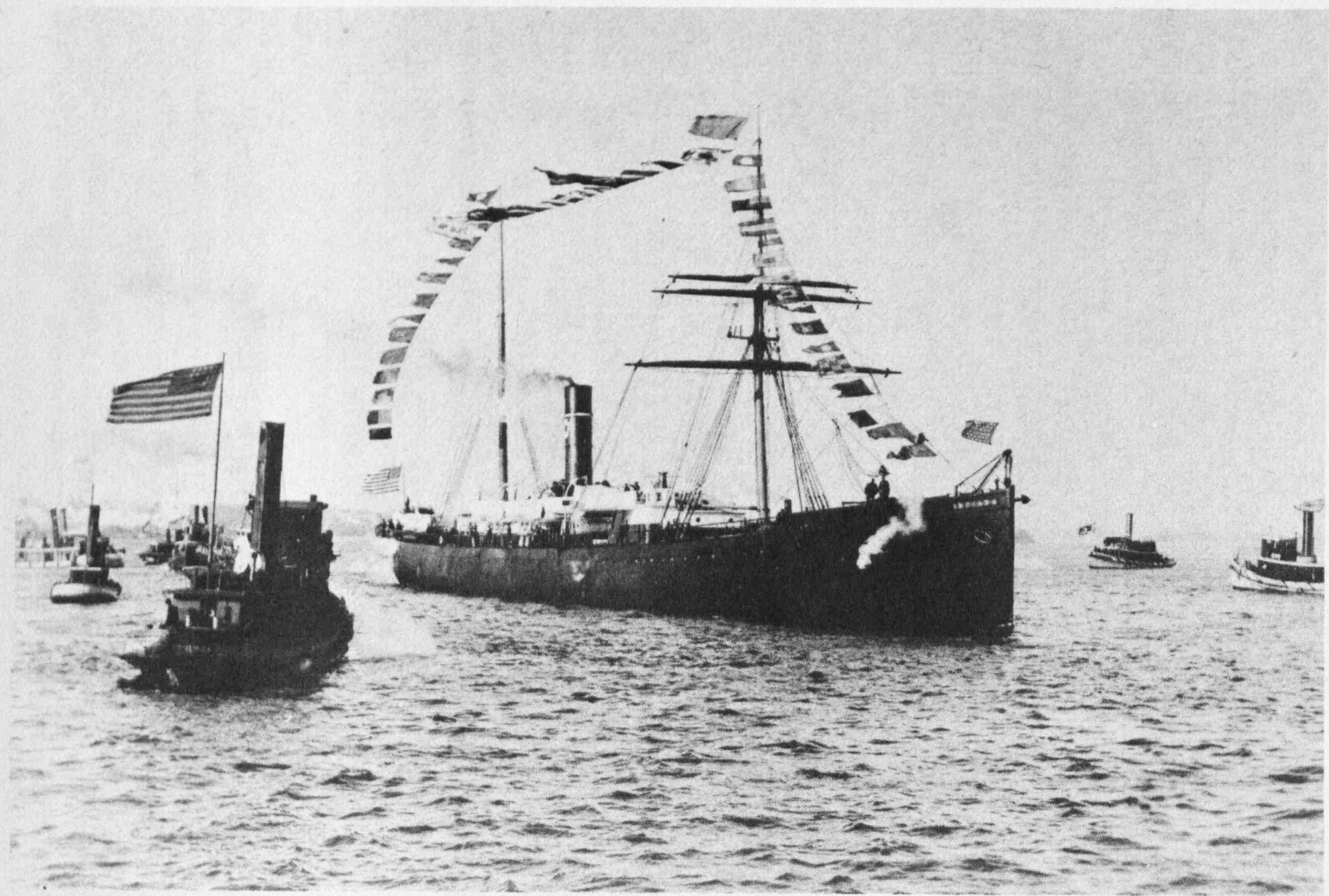 A year and 13 days after arriving in America, Catherine gave birth to Edward Teeling (middle name Mannis added later) on 9th June 1885 in Philadelphia. She and John would go on to have 6 more children. She died on 12th October 1925 and her US death certificate gives her age as '54 years 11 months 12 days' which suggests her date of birth was 31st October 1870 but the same certificate contradicts itself and gives her date of birth as 30th October 1871, These same dates would mean that she was 13 or 14 when she gave birth to Edward. For various reasons, it is not unusual for death certificates to get things wrong. Catherine was the Tobins' 9th child and was baptised on 6th November 1859, so she was in fact 24. A couple of generations of John Teeling & the Tobin sisters can be found here..
LEAVING FOR AMERICA IN 1986
For the two years he was in Philadelphia, John's mother had looked after his four children and the rift between the two families had not been repaired. He returned to collect the children and in 1886, John and three of them from his marriage to his deceased wife Anne can be seen listed on New York Passenger Lists & Arrivals. The given ages of John (6) , Matthew (5) & Peter (4) are all correct - suggesting they were travelling in June or October (leaving March, 29th May or October, arriving 10th March, 8th June or 24th October) in that year from Larne on the SS State of Pennsylvania which had left Glasgow. They also appear to have arrived with their maternal aunt Christina Tobin aged 30 (who would actually have been around 39) and paternal aunt Ann Teeling 19 - her correct age as she was born 30th October 1867.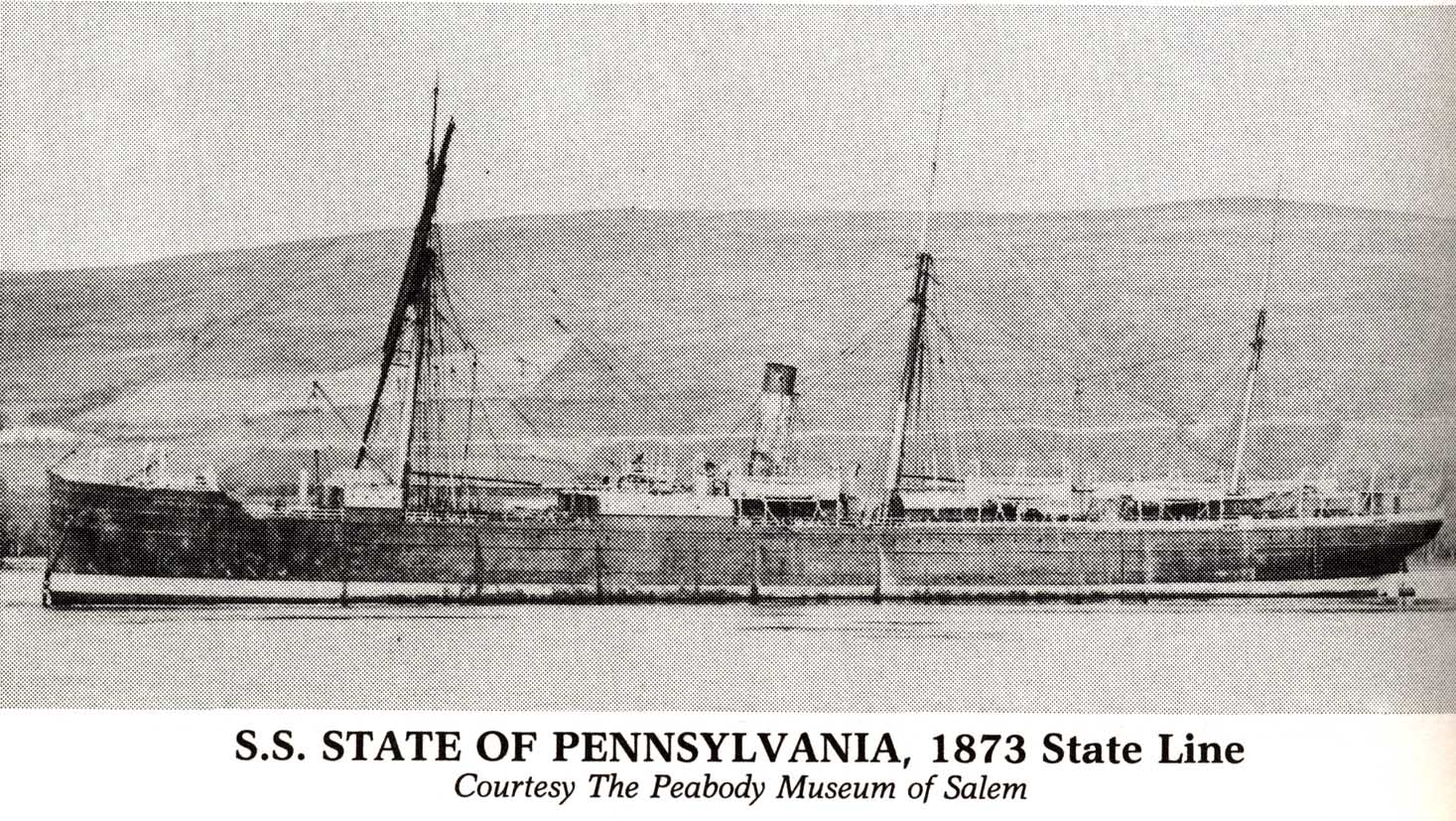 John & Anne's 4th child James remained in Ireland. His grandmother Mary Teeling (née Dunne) said he was too young and 'refused' to let him go. He never married and died on 10th September 1913 and is buried in Cortown graveyard.
ANN & JAMES BORN TO THOMAS TEELING & MARY DUNNE
Ann Teeling's presence on the list of New York arrivals answers a long standing mystery as her death could not be found in Ireland. It had been suggested previously that Ann had emigrated but that she had not been met on her arrival by her brother or brothers. Maybe instead she became separated from John and his children. Maybe she went on to Philadelphia with them or maybe she stayed in New York. It appears that she was caught up in the rift between her brother and mother. Nothing has been known of her since. A lot of maybes, but it now seems that she couldn't have been met on arrival by another brother, James, as was once suggested as he was living in Australia.
Ann's brothers John & James Teeling (latter baptised 17th July 1853) joined the Royal Irish Constabulary in 1871. Contrary to expectation, James left from Greenock (or maybe Larne) for Australia on the 6th June 1878 as a single man on the Rodell Bay (1,080 tons, launched 1877, wrecked off Cape Horn in 1881, possibly a similar barque to the Algoa Bay below) and an assisted emigrant. He arrived 27th August 1878 in Brisbane, Queensland. He became an engine fitter, did not marry and died aged 46 in Sydney on 18th November 1899. His death certificate gets his age wrong, as did his father Thomas's before him. :-)
---
If this page has been reached directly, then clicking on HOME above will also restore the frame and left index. Then a click on "Family GENEALOGY" on the left will enable the links to our other family genealogy pages including "Sally's TEELING Line" link at the top.
---