The Search for the Death of Thomas Teeling, Herd and Husband of Mary Dunne
1999
In September 1999, genealogist Patricia Moorhead searching in Dublin on our behalf for the death of our Thomas Teeling in County Meath found no candidates between 1885 and 1896 other than one who died 1st November 1891 in Union Hospital Navan. He was single, aged 60 years and a labourer. He was not married, not aged 62-65 and not a herd, so we discounted him and assumed that the death of Sally's great great grandfather had not been recorded.

2015
Subsequent independent searches confirmed the lack of other records - even allowing for mistranscriptions. Further research & investigations over the years failed to resolve the puzzle until 16 years later when research into the dog licences recorded in County Meath Petty Sessions changed our minds leading us to conclude that the Thomas Teeling who died in the Navan Workhouse hospital was indeed Big Tom. Not everyone agrees but much of family history is always hypothesis. The Navan Workhouse Hospital photo below is from Navan & District Historical Society workhouse webpages click on it for link.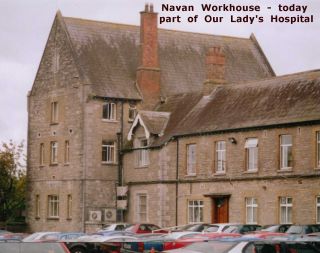 Gone to the Dogs
Dog Licence transcriptions are not perfect. Not all Teelings or Tisdalls (surname of Tom's employer) can be found by using the 'name variants' option when searching the petty session records. For example, 'Tuling' puts in an appearance as does 'Fisdall'. I was unable to find licencee Thomas Teeling in the years 1871, 1875-8 & 1883-5, but dogs licensed in other years to Thomas Teeling appear to be licensed to John Tisdall in these.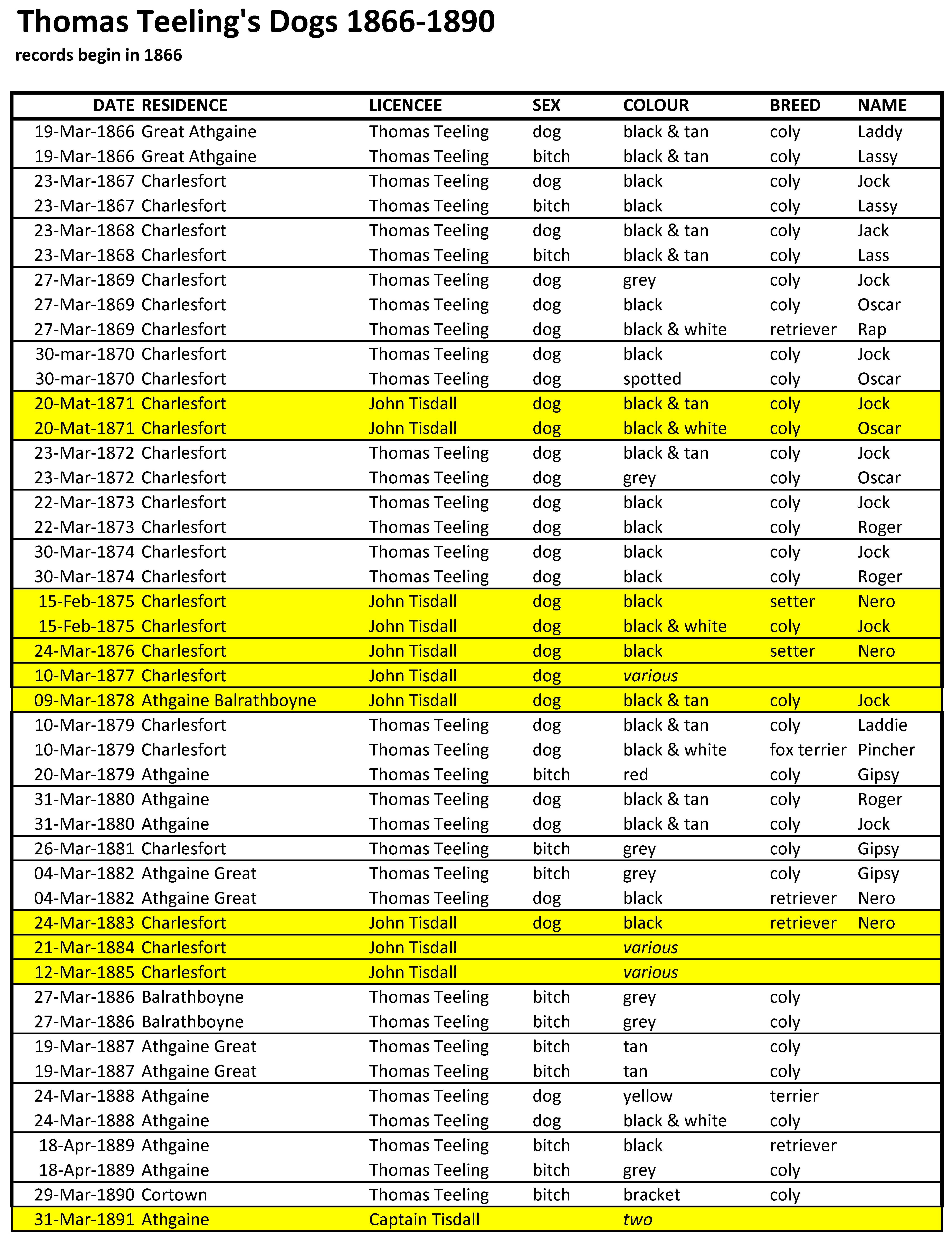 Tom appears to have died or at least become unfit or unavailable to have dogs after 18th April 1889 and before 29th March 1891. He was certainly dead by the time his daughter Margaret married on 8th November 1894. On 7th March 1892 John Tisdall died and the Charlesfort estate passed to his grandson Charles Tisdall, who never lived in Ireland and was to pursue a career in the army hence perhaps the last reference in the dog licence records to 'Captain Tisdall'.
The Hypothesis
The aforementioned dates are consistent with the only Thomas Teeling death found between 1885 and 1896. The date of death of 1st November 1891 and 'Lunacy Natural Decay 1 year Certified' are consistent with Thomas becoming incapacitated - perhaps with what we call dementia today - between April 1889 and March 1891. The workhouse records in Navan Library have been searched by Tracy Miller & Tom French and there is no reference to any Thomas Teeling by name.
In November 1891 the workhouse paid expenses of £2 0s 0d to Dr Sullivan for a 'Lunacy Case' which would appear to relate to Thomas's death.
It has come down through one family that our Tom Teeling died of a heart attack, so some people believe this cannot be him and they also point to the previously mentioned discrepancies in the death registration, but others including myself disagree. (Of course, we would be happy to be proved wrong. :-)) Nobody today would refer to old age dementia as 'lunacy' but in 19th century Ireland things would have been very different. Even today it is not unusual to find errors in death registrations and less care than normal might be taken in a workhouse hospital in 1891 - the death wasn't registered until 44 days later. It is possible that the family may not have visited Tom - they might have felt 'ashamed' or saw no reason as he didn't recognise them. Such circumstances could account for the paucity of information coming down to today.
Wellcome Trust doctoral student Alice Mauger of the Centre for the History of Medicine in Ireland, University College Dublin, has written as follows:
"In the late nineteenth century, attitudes towards the mentally ill could also be shaped by patients' social status and in particular their occupational background. Psychiatrists frequently measured non-pauper patients' 'sanity' against their ability to thrive professionally. They recorded men's inability to perform in the workplace, with particular emphasis on clerks and accountants who had failed to balance their books and merchants who had lost interest in their speculations. Failures such as these were regularly identified as both a cause and an indication of insanity. This tendency was indicative of contemporary psychiatric thought on the links between overwork and mental strain. It also reflected a Victorian emphasis on productivity, inherited largely from industrial Britain.
"Nevertheless, the identification of work-related strain was not just a psychiatric or cultural construct. During the economic depression of the 1880s and 1890s, a significant number of Irish men and women were plagued by financial worries and required respite from managing an ill-fated business or unproductive farm. In some few instances, however, families apparently exploited the local district asylum, committing sane relatives in order to gain control of property or land."
See: "Beyond the 'lunatic poor': Class and Insanity in Nineteenth-Century Ireland" http://rcpilibrary.blogspot.co.uk/2013/03/beyond-lunatic-poor-class-and-insanity.html
The death certificate doesn't actually give the 'cause' of death - only comments on his incapacity with 'Lunacy Natural Decay 1 year' - so it is not necessarily inconsistent with a heart attack.
Of course Tom's family may not have been aware that the words 'Bachelor' and 'Lunacy' had been written on the certificate. Tom's incapacity may well have necessitated hospital care. It just so happens that the local hospital in those days happens to be part of the workhouse. In that sense you would not have expected there would be any shame attached.
It is interesting to contrast Thomas's demise with that of his daughter Julia's husband as recorded in the death certificates. Patrick Timmons was committed to the local mental hospital St Loman's Hospital, Mullingar in West Meath 38km from where the family lived 6 years before he died of "senile decay" in 1902, while Thomas was admitted to the local general hospital 12km from his home a year before he died of "Lunacy Natural Decay" in 1891. Thanks to Kenny for the Timmons information.
Tangent
At the Petty Sessions back on 23rd & 31st December 1879 Patrick Brannon was charged with attempting to murder Patrick Timmons on the 7th December and the "information was returned for Trial at the next Assizes in Trim" in Meath.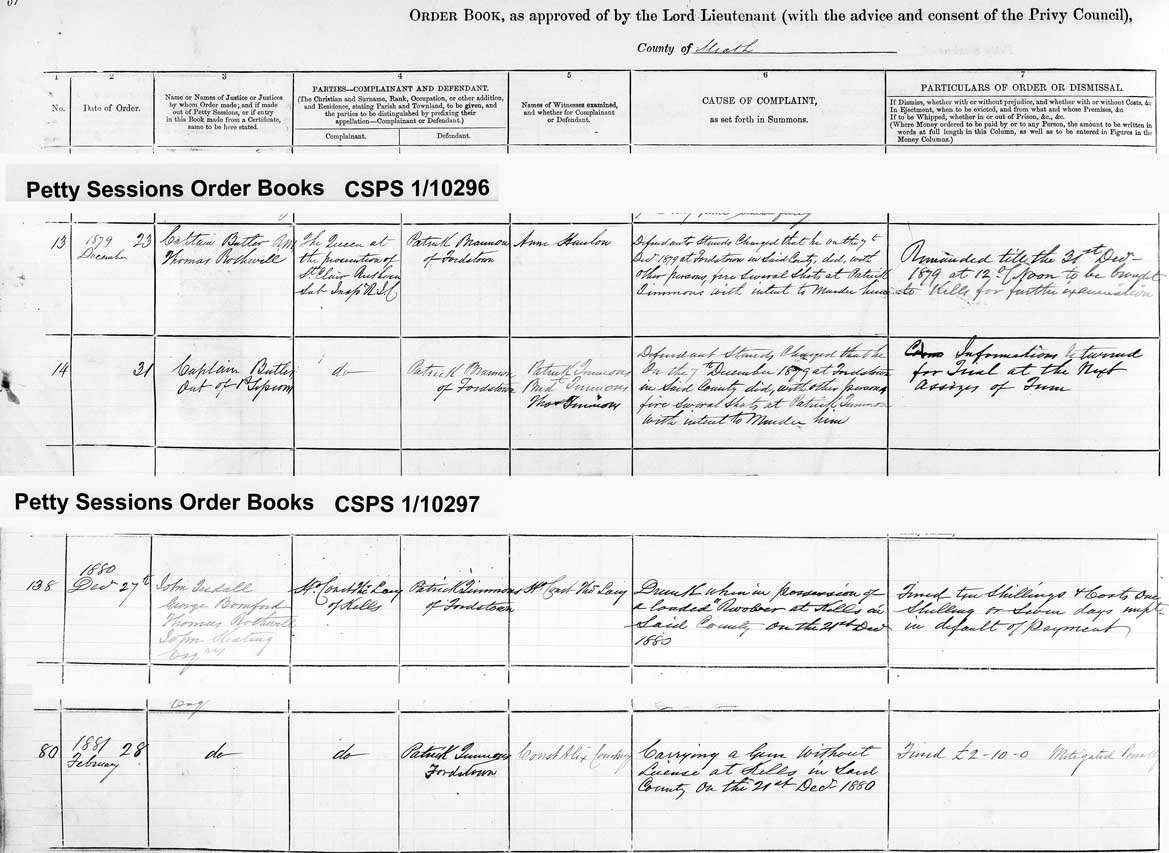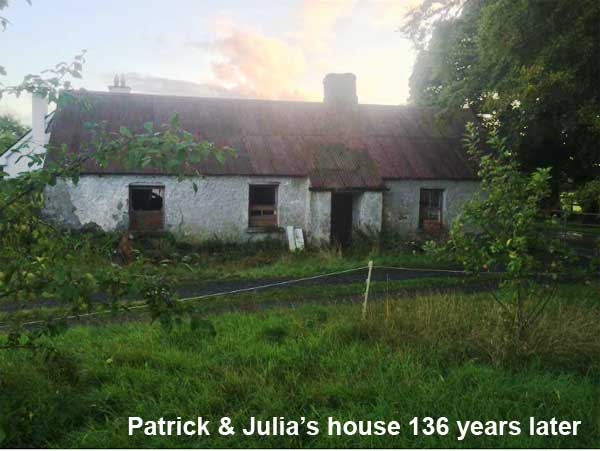 But Patrick Brennon (spelled with an e instead of an a but I assume the same individual) is at liberty and charged with being drunk not long afterwards on 27th January 1880. Newspapers in Ireland, America & England had already published reports of a £200 reward leading to the conviction of the person responsible for the crime, and more petty court appearances for minor offences follow over the years for Patrick Brennon which does not seem unusual in this time. The following report in a Scottish newspaper is published one day after the attempted assassination of King Alfonso and Queen Maria Christina of Spain on their honeymoon by Otero and three days after the Tay Bridge Disaster.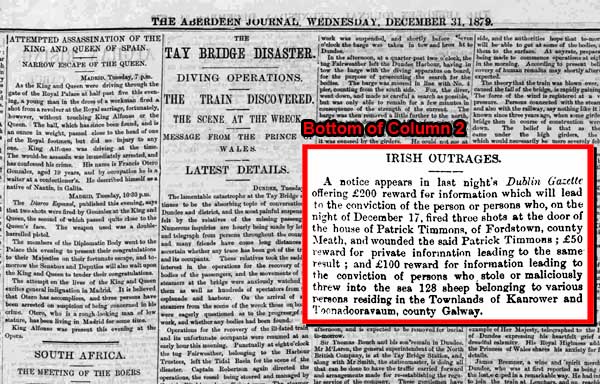 So it appears that the "Information returned for Trial" was not sufficient for Patrick Brennon's prosecution. One wonders why! The following is part of a newspaper report on the 1880 Spring Assizes at Trim which was published in The Freeman's Journal on Tuesday 2nd March 1880.
"... it appeared to him [His Lordship, Sir John Ross Dillon] that this county since the last assizes had been, upon the whole, in a very peacrable and satisfactory condition, It was true there had been some cases of sending threatening letters, and some cases of firing into dwelling houses, and matters of that kind, in which persons had not been made amenable, but he did not think any failure in that respect was due to be at- tributed to the constabulary, His lordship was quite sure they had done their duty, and had made all the efforts in the power to bring the perpetrators to justice. They were extremely difficult to detect, and it was to the difficulty of discovery in these cases and not to any deficiencies on the part of the constabulary that his lordship attributed the failure. But although some cases .."
So it looks like no one was able to claim the £200 reward that had been offered. Of course, I am sure that wasn't what motivated the Timmons witnesses. ;-)
These events are unconnected with Patrick Timmons' committal to a mental hospital 16 years later.
Tom Teeling didn't own his house and its land in Athgaine Great but he was the official tenant, and it doesn't appear that after his death his wife Mary was one of the tenants who bought her home in 1904 when according to the Meath Chronicle of 17th September reported by Tony Coogan "on Friday, 9th September, tenants on the estate of C. A. Tisdall met with the agent at his residence in Martry and signed agreements to purchase their holdings on the following terms - 25% or 23 years on non-judicial rents". The 1911 census shows Tom's son Peter still living there with his nephew James Teeling but also now with his niece Elizabeth 'Lillie' Duffy.
Tom's death certificate gives his age as 60, while he was likely to be at least 62. His son James's death certificate underestimated his age by three years while that of the wife of his son John gets it wrong by ten years. Such errors are not unusual and continue to this day.
Tom's occupation was given as a 'herd' between 1854 & 1877, and also after his death on his daughter Margaret's 1894 marriage and widow's 1908 death civil registrations. But in 1877 his oldest son Edward's marriage certificate describes him as a 'land steward'. A land steward or land agent was the next step up from a herd who would be in charge of a herd of animals. A land steward was the landowner's representative who among other things collected the rents from tenants. This would explain why the house in Athgaine Great was also described as an office in the Griffiths Valuations of 1854. Again after his death, his daughter Bridget's marriage certificate in 1906 says he had been a 'shepherd' which is a distinct occupation from herd and in line with the dogs he licensed, while both his son James's 1899 death certificate and his daughter Jane's 1907 marriage report that he was a 'labourer' - consistent with the hospital workhouse death registration. It is also consistent with Maureen's report that to supplement his income he also used his own horse and cart to work on the roads, filling potholes.
Of course, some children will also embellish or even lie about their father's occupation to boost his status and some officials will misinterpret what they have been told, but occupations will also vary over a lifetime giving informants the opportunity to pick and choose what they wish to report.
---
If this page has been reached directly, then clicking on HOME above will also restore the frame and left index. Then a click on "Family GENEALOGY" on the left will enable the links to our other family genealogy pages including "Sally's TEELING Line" link at the top.
---