SPALL WORLD
Click on HOME to restore the frame and left index if not on screen.

George Spall and Martha Harrald in Suffolk

We have traced the Spalls back to George who we believe was born in Woodbridge in 1786 and Martha Harrald born ca 1795 in Bury St Edmunds, but no further!

There is artistic skill in this line. George was a coach painter, as was his son George Harrald and grandson William. George's granddaughter Harriet Jemima Spall married a painter, artist & sculptor in Edwin Heaton (the youngest of 8 children, two of his sisters, Caroline & Maria, were photographic artists in 1871).Their son Frederick was an artist and son Edwin George W Heaton became a house painter.

E Heaton, born Somerstown 29-Sep-1857, died Leyton 8-Nov-1941

Although not a blood relative, Edwin Heaton played a part in our ancestors' lives. In the 1881 census, he is a "painter" in Chigwell, in 1891 an "artist (picture painter)" in Woodford, in 1901 a "sculptor, artist, painter" in Woodford and in 1911 an "artist" in Leyton at the same address where he died in 1941.

Following the death of his wife in 1928, it is thought that in the 1930s he stayed with the family of her niece Marie Ann Thorogood French (née Scott) and her husband Frederick Charles. See my page on the Scotts.

His work occasionally comes up at auction attributed to "E Heaton" and although identified as a "known painter", online information is often wrong. We have found prices for his decorative paintings varying from £45 to £1,200 in the first decade of the 21st century but usually attracting very modest sums.

The next three paintings illustrated below are owned by his wife's great grand niece. Click on the images for enlarged views.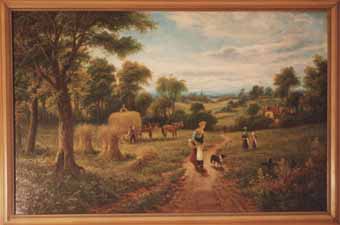 above: E Heaton, ca 60cm x 40cm, oil on canvas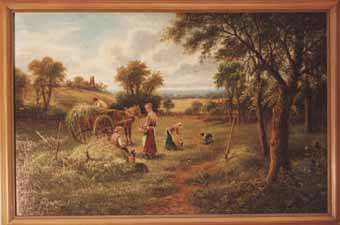 above: E Heaton, ca 60cm x 40cm, oil on canvas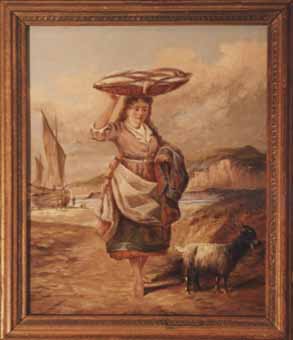 above: E Heaton, ca 21cm x 27cm, oil on board
The next two paintings below are owned by his wife's great grand nephew.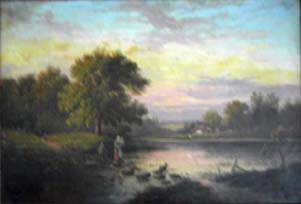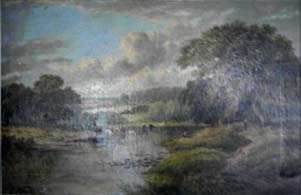 above: E Heaton, 1883
Prompted by Terry, I found a number of pictures also attributed to E Heaton on the Web. They illustrate well the "formulae" that painters use.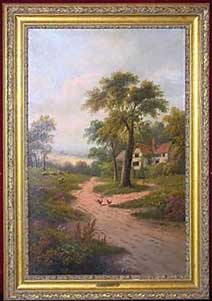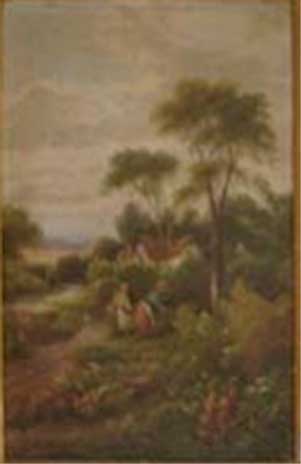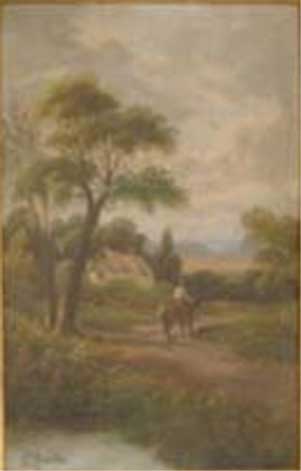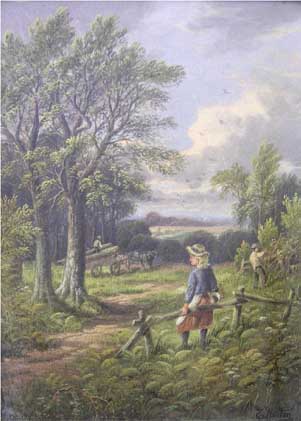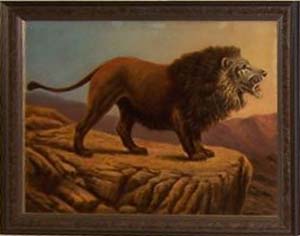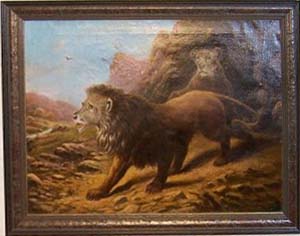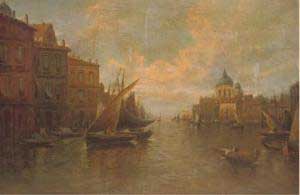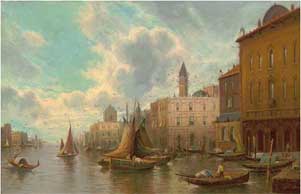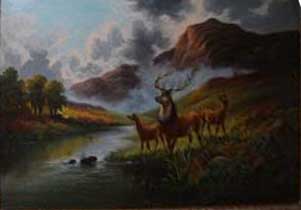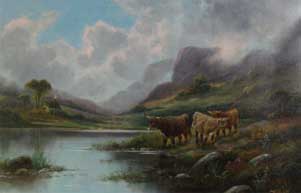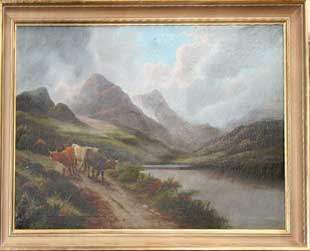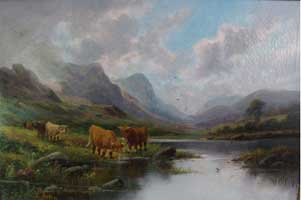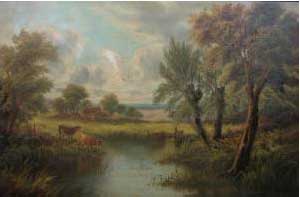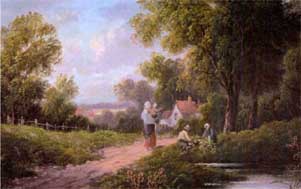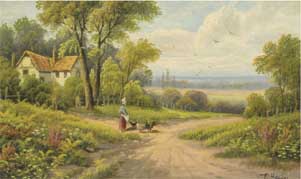 Eliza Caroline Scott, née Spall, aka Anderson, 1845-1919
Below is my great grandmother, Eliza Spall. Born in Cheshunt in 1845, she married my great grandfather Frederick Scott in 1877. After he drowned at sea, she formed a partnership with Joseph Anderson, a builder and carpenter, who had previously had two children - Joseph Henry & William A - with Catherine (maiden name not known). We have found no marriage for Joseph & Eliza. In 1884, they had a son, John Anderson who married Alice Florence Sinclair in 1909. After their third child they moved from Southend to London. They brought up 7 children - Marie Frances, Blanche J, Leonard Wilfred, Constance Joyce, Winfred Edith, Pauline Betty and Judith P. John C died in infancy.