MANNS
Click on HOME to restore the frame and left index if not on screen.

George Mann and Maria Ritches

George Mann was born in Roydon, Norfolk around 1799. He married Maria Ritches (born ca 1804 in Edgefield) in Dersingham in 1820. Maria's mother might be Sarah Hewitt. George was a shepherd in 1841, a marsh shepherd in 1851, a farmer of 40-odd acres from 1861 onwards. Sally's ancestor Francis Mann was one of George & Maria's 7 children. He too was a shepherd and had 12 children in Ringstead with Amelia Bocking, one of which was Sally's great grandmother, Charlotte Mann

Charlotte Mary Kemp, nee Mann, 1849-1921, Ringstead

Fanny Mann was born to Charlotte in Ringstead on 1st september 1871. Charlotte married our Edward George Kemp a year later in September 1872 in Warnham in Sussex where his parents had moved. Edward and Charlotte had two children in Hartlepool, West Durham, before returning to Ringstead between 1878 and 1880.

Fanny Mann appears as Fanny M Kemp in the 1881 census, Fanny Kemp in the 1891 & 1901 censuses, but Fanny Mann in the 1911. She had a daughter, Beatrice May Mann in 1897. She is with her grandparents in 1901 and 1911, and on the latter occasion is listed as Beatrice May Kemp.

Below is Charlotte Mann.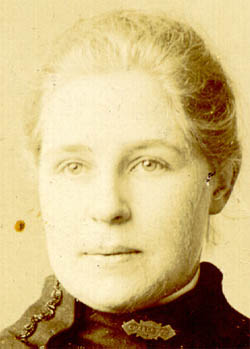 Charlotte Mary Kemp (née Mann), born 27-Mar-1849 in Ringstead, Norfolk, England; mother of May Kemp