DUNMORES
Click on HOME to restore the frame and left index if not on screen.

Daniel Dunmore was born around 1780 but apparently not in Winwick, Huntingdonshire where his wife was born around 1783. They married in Huntingdon in 1804, but we have not been able to trace the Dunmore line any further back in time. Mary was one of ten children born to John and Mary Raymond (spelling of the children's surname varies).

Daniel's son, my great great grandfather John Raymond Dunmore, married Mary Anne Millard in Winwick in 1839. They moved to London, John took work as a servant, labourer, coachman and porter, and their children were born in locations described as Hanover Square, Winwick, Marylebone, St John's Wood and St Pancras. The youngest of their children was Harriet Dunmore, my great grandmother. She was the first wife of John Solomon Milward.

Hariet Dunmore, 1862-1903

We believe that this might be a photograph of Harriet Dunmore.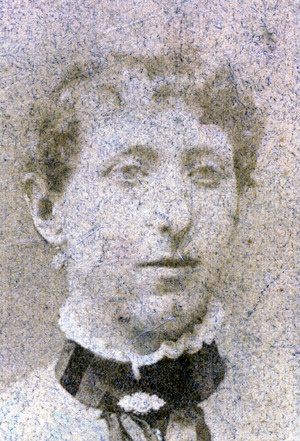 And this is a photo of her daughter Katie Gertrude Dunmore Milward we believe with Dunmore relatives. Please get in touch if you recognise any of these people.